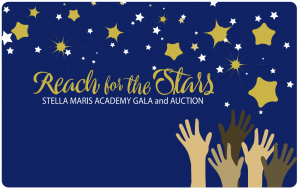 Please join us at our Reach for the Stars Gala this year! We look forward to seeing you on Saturday, March 16th at 6:30 p.m. at the La Jolla Country Club. Use the link below to purchase tickets or to sponsor a teacher!
Thank you for supporting our school!
Tickets
1 Ticket $125.00 USD2 Tickets $250.00 USDSponsor a Teacher $125.00 USD
>
PTO Officers and Committee Chairs
The Stella Maris Academy PTO welcomes all parents to join the Parent Teacher Organization. PTO meetings will be held on the 2nd Tuesday of each month at 8:15 a.m. in the STAR Center.
P.T.O. POSITIONS
| | |
| --- | --- |
| President | Tania Hynes-Ronchi |
| Vice President | Jennifer Oliver |
| Secretary | Candice Lowell |
| Treasurer | Michelle McKenna |
| Cork and Fork/Gala | PTO |
| Welcome Back Coffee | PTO |
| Back to School Beach Bonfire | PTO |
| Movie Night | PTO |
| Halloween Family Fun Night | PTO |
| Spirit Run | PTO |
| Breakfast with Santa | PTO |
| Christmas Parade Float | Jennifer Barber-Singh |
| International Lunch | Jennifer Barber-Singh |
| Grandparent's Day | Jennifer Oliver |
| Open House/Catholic Schools Week | PTO |
| Parent/Child Dance | PTO |
| Mothers' Day Stall | Jennifer Oliver and Michelle McKenna |
| End of Year Picnic | PTO |
| Jr. Achievement |  PTO |
| Pizza Lunch | PTO |
| Room Mom Coordinator | PTO |
| Used Uniform Sales | Michelle McKenna |